Rapidly Publish and Monetize Your Applications on Cloud Marketplaces using Marketizer
Application owners can grow their business by delivering their solutions through popular Cloud Marketplaces to global customers. Publishing an application on Cloud Marketplace can be accelerated through expert knowledge so that you can start monetizing the application immediately.
SurPaaS® Marketizer™ integrates your application with marketplaces seamlessly since it directly connects with the Cloud Marketplace and you don't have to worry about Cloud APIs. It also equips you to use the power of SurPaaS® metering engine for billing your customers through usage-based metering of your application. Create multiple subscriptions at different price points to cater to different target audiences.
SurPaaS® Marketizer™ Workflow: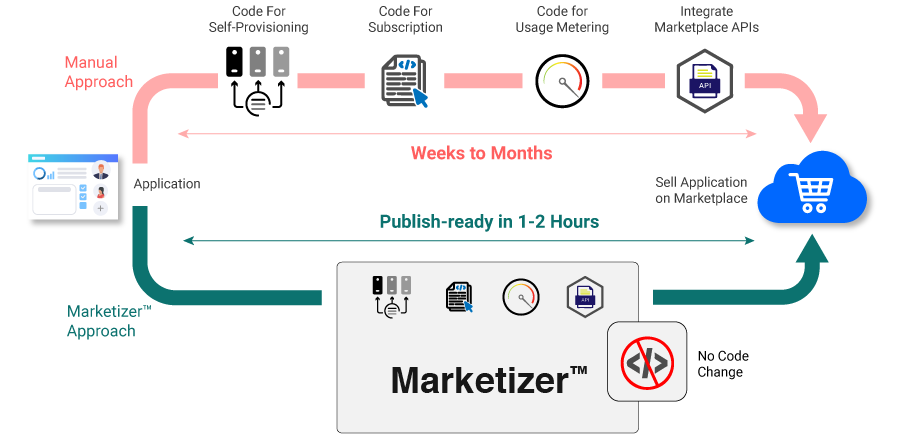 Accelerate Your Marketplace Integration
Let your application take a giant leap to preview mode on marketplace within 1 week using SurPaaS® guidance for publishing on MPN (Azure) or AWS account. Manage all your tenant lifecycle actions such as subscribe, unsubscribe, posting usage data, and upgrade through SurPaaS® with no code changes.
Enable Self-Provisioning Capability
Onboard any number of customers from Cloud Marketplaces by enabling instant self-provisioning mechanism on your application using SurPaaS®. Attach Cloud customers into your application system seamless from Cloud Marketplaces.
Meter, Aggregate and Post to Marketplace
Allow your business team to imagine and explore multiple strategies to bill your customers. Empower them to refine your billing strategy continuously to go with changing customer usage trends and without development effort.
Manage All Your Customers
Govern all your Cloud customers as tenants from a single console in SurPaaS®. Monitor the application health and customer usage patterns on Cloud Marketplaces. Analyze your customer behaviors based on statistics provided by SurPaaS®.