Deploy Your Applications as SaaS on AWS SaaS Marketplace
SaaS Providers can easily take advantage of the marketing reach and billing infrastructure of AWS SaaS Marketplace by using SaaSOps to SaaSify applications and integrate them with AWS SaaS Marketplace.
ComPaaS transforms one or a portfolio of applications already on AWS into efficient SaaS in one or more Tenancy models, with all necessary SaaS operations capabilities, delivered to customers through AWS SaaS Marketplace.
AWS customers can directly search, find, and subscribe to your SaaS applications in AWS SaaS Marketplace.
SaaSOps Workflow for AWS SaaS Marketplace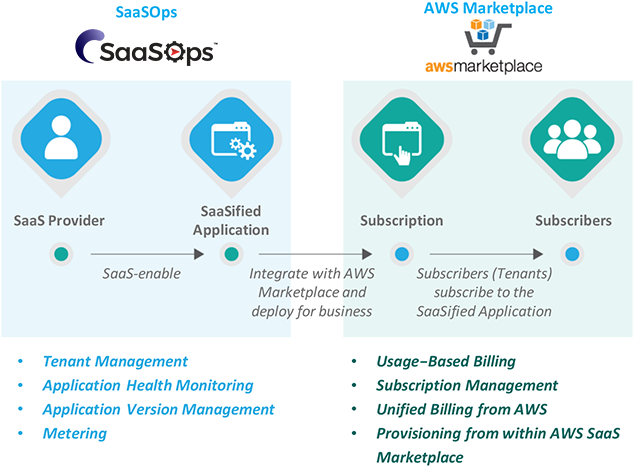 SaaS-Enablement
SaaSOps can acquire any AWS Cloud deployment of your application and transform it into a SaaS application so that it can be listed in AWS SaaS Marketplace. It SaaS-enables your application by enabling tenancy and plugging-in provisioning, business and operation services.
AWS SaaS Marketplace Integration
SaaSOps provides a complete solution to quickly SaaSify and integrate your application into AWS SaaS Marketplace.
Subscription Management
SaaSOps provides the ability to create subscription definition that aligns with the AWS Marketplace subscription model and with your pricing strategy. Subscribers can subscribe to your application in AWS Marketplace and fulfillment is handled automatically.
Monitoring for Usage-Based Billing
AWS Marketplace requires your application to send each subscriber's usage data for billing. It involves development effort to make necessary changes in your application which can be both complex and time-consuming. SaaSOps monitors your application and sends usage data to AWS Marketplace for billing with no changes to the application.
Application Lifecycle Operations
SaaSOps helps you to manage and visually correlate multiple application versions, deployments with different topologies, different architectures available in AWS Cloud which helps you to take better operational decisions. It can also help you manage your application lifecycle by creating Sandbox, Staging, and Production environments for your SaaS applications in AWS Cloud.
Detailed Workflow of SaaSOps: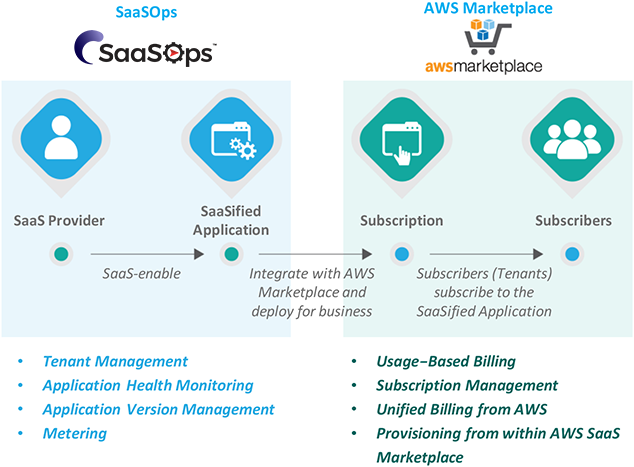 Application Health Monitoring and Alerts
SaaSOps can monitor the usage of resources associated with your application in AWS Cloud, both software components (application servers, database servers, queues, etc.) as well as hardware resources (CPU, RAM, network, etc.), and utilize these insights to trigger alerts. It utilizes the AWS CloudWatch service to monitor and provide accurate hardware utilization data of your application resources. You can also monitor these resource usage for each of your customers separately. It has an in-built alert management system that triggers notifications based on pre-defined and user-defined events.
Tenant Provisioning
SaaSOps enables you to provision new tenant accounts for your application so that subscribers subscribing through AWS SaaS Marketplace can start using your SaaS application.
Tenant Operations
You can view all your tenants and users subscribed through AWS SaaS Marketplace from a single console in SaaSOps, no matter where they are deployed.