SurPaaS® Moderno™ helps you in managing your Cloud resources associated with your Cloud applications. Provides you with the real-time information about the health of your applications. Equips you with a fleet of advanced capabilities for optimizing and modernizing your applications.
FEATURES:
Understand Your Application Landscape
Scan hundreds and thousands of resources running on your Cloud landscape using SurPaaS® and categorize them into manageable subgroups as applications and deployments. These groups are created automatically by analyzing the network connectivity, workload connectivity, and Cloud setup of the resources and helps you to manage your application infrastructure effectively.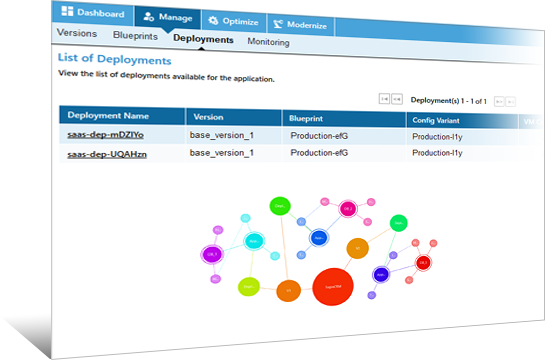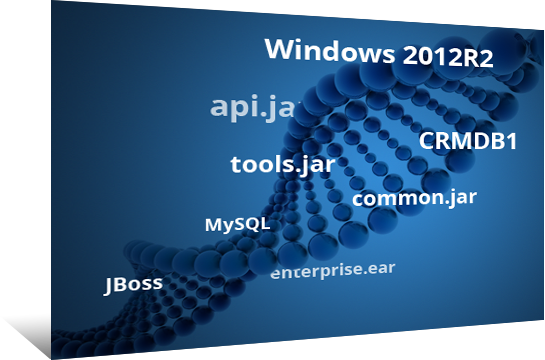 Identify the DNA of Your Application
Get a holistic view of all the components in your application on Cloud from workloads, binaries to databases, schemas and many more. Visualize your complete application and its deployments in a single pane to get a magnified view of your application landscape. Compare the DNA of different deployments of your application and identify the differentiating factors.
Modernize Your Application Infrastructure to Next-Gen Cloud Architecture
Maintain a competitive edge by modernizing your application workloads with PaaS, Containers, etc., which offer greater flexibility and scalability. Re-architect your application deployment model to implement backup and high availability; distribute workloads for enhancing application performance. Utilize our detailed technical advisory which outlines its value for your application and execute them through SurPaaS®.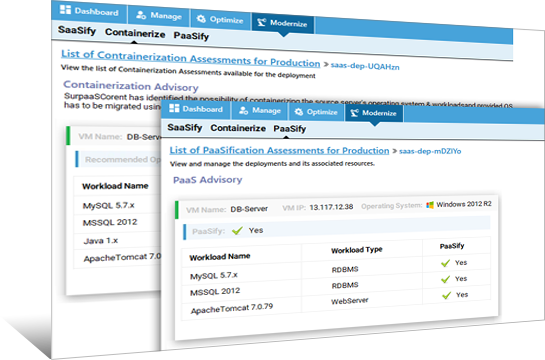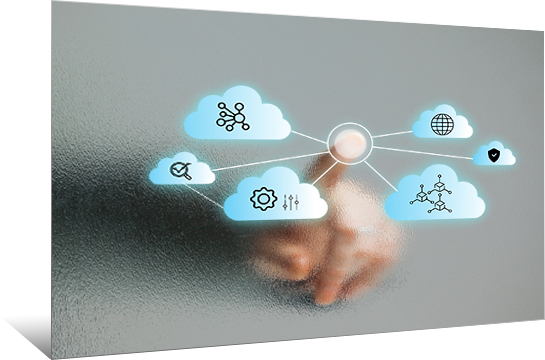 Manage Multiple Application Deployments
Govern all your applications effectively using a single platform to perform activities such as stop, start, delete on your deployments. Utilize our immensely valuable optimization and modernization advisories provided along with one-click implementation capability. Realize the complete benefits of your Cloud resources through rightsizing, VM flavor change scheduling, etc., for optimized usage and management.
Automate and Centralize Your Application Lifecycle Management
Manage deployments and operations for all your applications on Cloud through SurPaaS®. Without changing your development environment, manage multiple versions of your application deployments on Cloud. Create on-demand upgrades, clones and backups for your applications. Select your tenant and initiate version upgrades on a single click.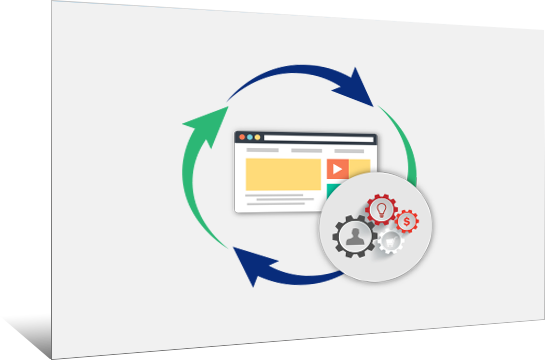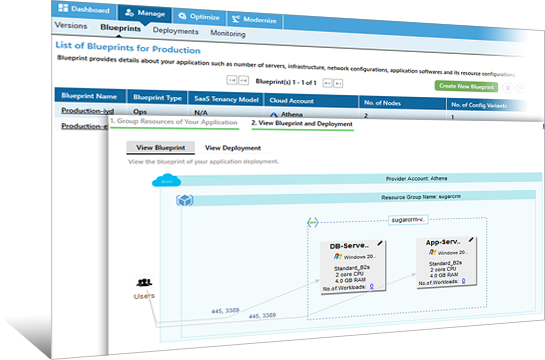 Generate and Manage Blueprints Automatically
Gain a complete graphical overview of all the Cloud resources and workload components that constitute your applications through SurPaaS® Automatic Blueprint Generation mechanism. Confidently redeploy multiple instances of your application using these Blueprints. Clone or create different variations of your application deployments with different size, security and network configurations.
View Your Application Telemetry
Monitor the health of your applications continuously from different dimensions. Evaluate the efficiency of applications with respect to its usage of infrastructure and workloads based on SurPaaS®' creative visualization and reports. Using these insights, optimize your applications by rightsizing, scaling up or down resources and re-architecting applications for superior performance and availability.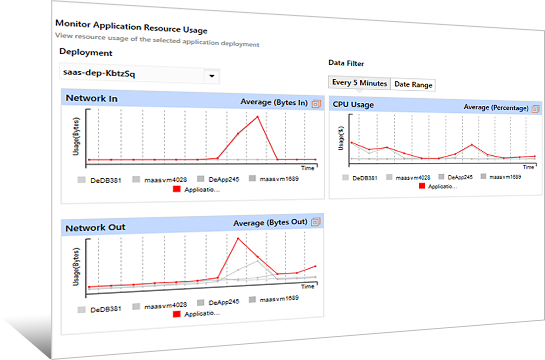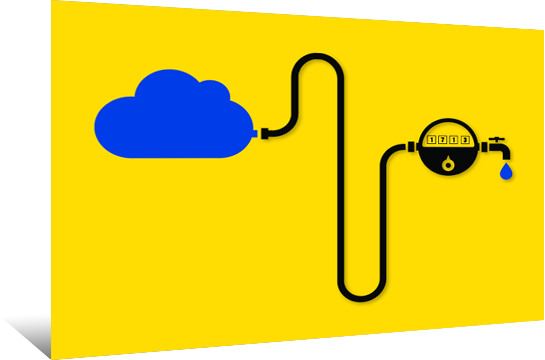 Meter the Application Usage and Make Informed Decisions
Realize the commercial value of your application by aggregating and metering its usage to derive business insights. Pull data quickly from different applications and perform usage-based metering with just a few clicks. Configure alerts and notifications by defining threshold metrics for hardware, workload and application usage.
Optimize Your Application Infrastructure Continuously
Identify application resources that are underutilized, do not follow standards, require higher computing power or security settings. Optimize these resources by executing SurPaaS® recommendations aimed to reduce incurring cost and adhere to Cloud best practices and security standards. These actionable advisories provide detailed information to allow you appraise and adopt its values and benefits.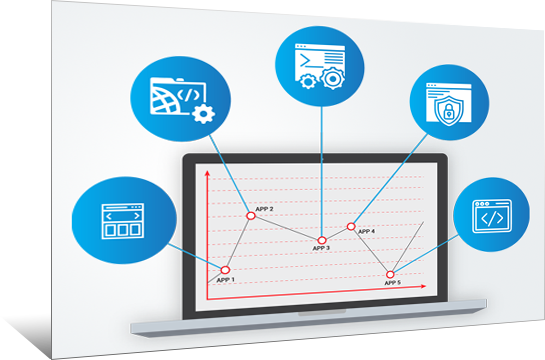 Offer Your Software as Service
Analyze your portfolio of applications and identify the applications which can be delivered rapidly as SaaS with tenancy, operations, and commercial services capabilities. Simplify your customer onboarding process by integrating self-provisioning mechanism with your application and eliminate dependencies across multiple teams for delivering it to customers. Customers can start using your application in a few clicks.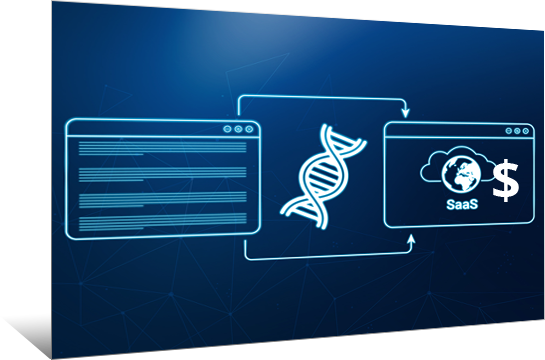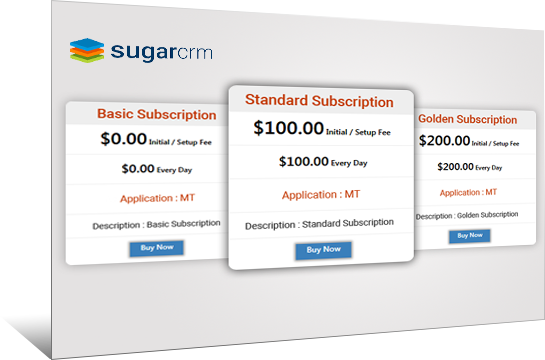 Adopt Effective Commercial Management
Monetize your application effectively by standardizing your pricing model and offer different subscription plans through SurPaaS®. Explore new win-win billing options by charging your customers for the usage of key features in your application. Create multiple metering components associated with these features using application monitoring streams. Track the application usage of your customers individually as needed.
Integrate with Popular Cloud Marketplaces
SurPaaS® marketplace integration feature enables you to list your applications on popular Cloud Marketplaces, helping you to leverage the brand value of Cloud. Customers can choose your applications from a Cloud marketplace and start using it immediately. This helps you to reach a wide range of Cloud customers. Supported Cloud marketplaces include AWS Marketplace and Microsoft Azure Marketplace.